The Adventure Begins in the Stedman Laboratory at PSU's Center for Life in Extreme Environments
Contributor Affiliations:
Hello! First of all, let's talk about last week. It's so good to be back working at Portland State University! I don't know what it is about, but I love working in an academic environment. Those of you reading this that knew me twenty years ago, who would've guessed, right? So, yay, I am back at PSU (temporarily anyways).
My first day at the lab was a Monday. That's the day we have lab meetings. In this meeting, graduate student, Eric Iverson, presented about his project which involves testing all of the ORFs (Open Reading Frames) of the virus, SSV1 for knockout viability. Hmmm... am I using those terms correctly? He deliberately removes a gene in an ORF and then tests the virus' ability to infect Sulfulobus (Sulfulobus Solfataricus). Here's a quick pic of the remaining ORFs to test: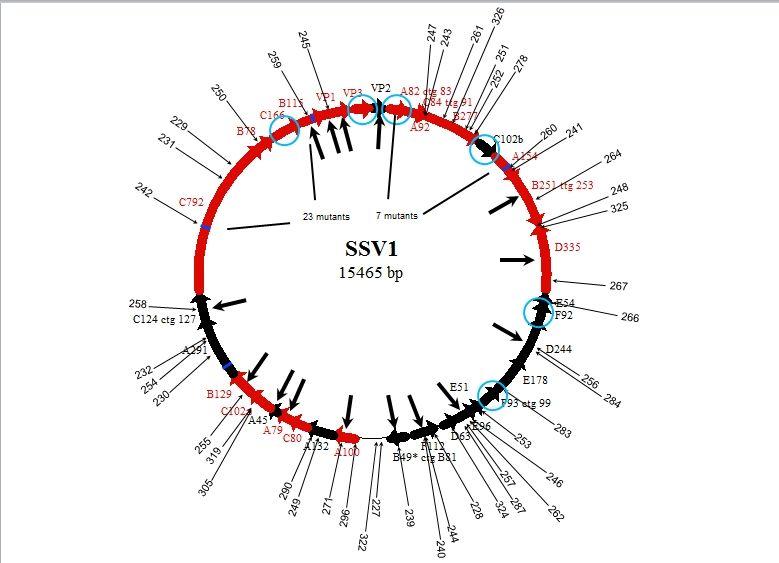 I was able to follow along pretty well until the pictures became all data and the real fun began. So, rather than task my poor damaged brain (I'm really milking this injury for everything she's got Scotty!), with trying to remember all of the stuff I was barely following I'll be providing a copy of Eric and Dr. Stedman's paper, A genetic study of SSV1, the prototypical fusellovirus, as an attachment to this blog. In next week's blog I shall attempt to discuss. Good times. Feel free to read along and help straighten me out, or contribute anywhere my explanations may be unclear or thin. I'll be talking to Eric this week about some of the other pieces of information in the powerpoint so I can hopefully tie some of that into next week's blog too.
So, after the meeting I was shown to a desk area and immediately shown the lab's stock cabinets. Then I was handed a recipe for making the media that they use to culture the Sulfulobus in, as Eric asked me if I had ever worked in a lab before. I'm shaking my head no, but explaining with my Pshhhh-No-Problemo face that our program gives us PLENTY of practice making media. I'm pretty sure that look on my face vanished pretty quickly when I looked back down and realized that there was something like a list of thirteen ingredients to this media. No worries though because it was the recipe for a liter and there was no math involved. Phew. I took my time and worked my way through it while Eric watched and made sure I wasn't going to do anything crazy. Then Eric showed me how to use the field pH meter in order to pH the media since the regular one was acting up a bit. By this time I'm thinking, "Awesome, I just learned how to use a field instrument!" I found out later when I brought it to volume that Eric was just pretty excited that I knew how to use the carboy and shut it off correctly without ending up turning the lab floor into a Slip and Slide. Did I end up in the right lab for me or what? THAT'S what they wanted from me on day one? I GOT THIS!
As the day and week progressed I was able to talk to Eric and Dr. Stedman more about what I was comfortable with and what kind of experience we get in the PCC BIT lab. I have no idea if that really contributed to the additional things I got to do and learn as the week progressed or if they were just planning on throwing me in anyways Sink-or-Swim style. (To be fair, Dr. Stedman is already familiar with PCC's BIT Program since he sits on the board.) I received training on how to use PSU's super fancy autoclaves and the Sorvall centrifuge. Next was learning how to inoculate my media in flasks that I had autoclaved with the Sulfulobus infected with SSV1, and culture that in the hot oil shakers. (In the interest of full disclosure, I had to stand on my tippy toes to get the first bottle in and my vertigo was not cooperative. So for safety reasons, I had help with the remaining three. Since there was you know, hot oil and glass and stuff that sounds like the beginning of a scary camping story for biologists.) At the end of the week, Eric showed me how to get into the minus 80 degrees C and begin a culture (there's a trick to it too!).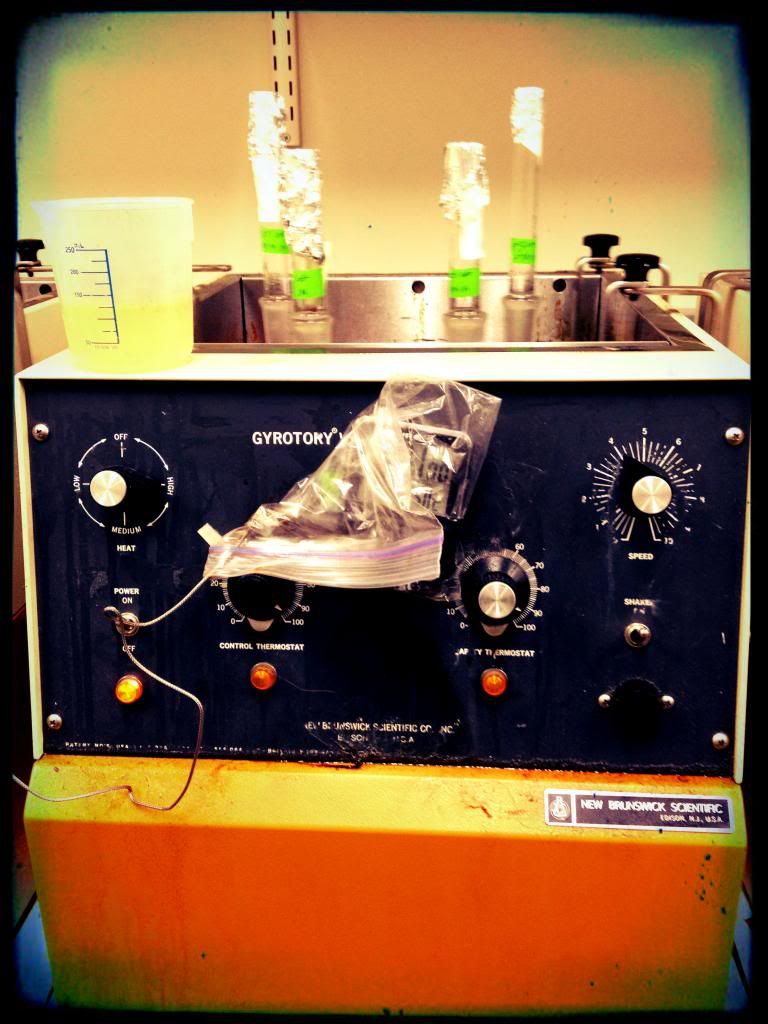 Dr. Stedman also went through the notebook and freezer box of another graduate student, who is no longer with the lab. For her project, I got to make buffer to resuspend pellets that had been in the freezer since 2011. This DID involve molarity math. Which took me a minute but when I was finished I had Dr. Stedman check for me. Did I mention he's actually really cool about this stuff? It's intimidating to interrupt a PI with a "Hey, will you please check my math?" Especially when that PI has about five or six different major projects going on, not to mention is overseeing a lab with roughly ten or so students working. And he's probably got even more stuff that I don't have any idea about that he's trying to do getting ready for the upcoming trip to Lassen and his fall classes. As it turns out though, Dr. Stedman is very approachable and not at all scary which is almost more intimidating because now you really want to make sure you don't let the man down.
My math was right. Phew! Thank you, Dr. Trish Willy, Dr. Brow and PCC's Bioscience Technology Program for making sure I didn't make a fool out of myself right out of the gate with bad lab math!
Next, with that same project, Dr. Stedman assigned me the remainder of that student's notebook. As I'm looking through her work, I'm starting to panic. There are WESTERN BLOTS in this thing!

Now, I am confident I can run a Western well and possibly even read the data, even if it's a co-IP. I know for a fact that I don't understand the developing process and that my data interpretation skills when it comes to a western are in serious need of improvement though. When Dr. Stedman mentioned running the Westerns and asking about if I had done them I was very honest about this too. He kind of laughed and said he didn't really expect that from me and he would help me with interpreting the data. By now, I am just about ready to turn around and start looking for cameras. Am I being pranked? This PI is a lot nicer than I had expected real world PIs to be. I may or may not have had a few instructors tell us some horror stories that made this experience I'm having with this lab seem like a dream. They did a great job of preparing us for the real world. So I'm just going to enjoy this as much as possible because I am painfully aware things may not always be so cool. I made some buffers, and then I made some more buffers. This time, they were for pouring my gels! I'm running SDS-PAGE gels! Woohoo! I liked this in school! Eric showed me how to use their gel preparation apparatus which was a little different than what we worked with. So I got to pour a gel my first week too!
Unfortunately, I am still recovering and that first week was the most fun ever in the lab and a nightmare when I got home in the afternoons. Arriving home, I would be absolutely exhausted and a couple of days my head injury was pretty angry. The Stedman lab is staffed with a really helpful bunch of people and I enjoyed getting to meet them and work with them. I am still baffled that people actually get paid to do this work, which to me is all fun. Not that the work that is done in this or any lab isn't work that's worth being paid for. It's just that my life's work has been spent (for the most part) doing stuff that actually felt like work.
As promised, I'm attaching Eric's paper to this week's blog. I'll be talking a bit about it in my next blog which will also include a bit more information about my contributions to these projects. Additionally, in the next blog... get ready for this (Eeeeeeeeeeeeeeeeeeeee!) I am getting trained to use a TEM (Transmission Electron Microscope)!!!
The beginning of my media and buffers!
 
 
 

 

 

 

 

 




 

(Eeeee! I love lab!)







Please visit my website for updated information and protocols on the winter and spring terms at PSU:

jennifernewsted.wix.com/biosciencetech